Remote monitoring of gas pipelines on the basis of magnetic elastic sensors of mechanical voltage
Abstract
A method of controlling the stress state of gas pipelines with a four-pole magnetoanisotropic converter has been suggested. The Arduino hardware and software platform has been used to enhance the capabilities of the INI-1C basic mechanical stress measuring device. The system of remote monitoring for periodic measurements of pipeline voltages, accumulation and analysis of the received data has been described in order to provide objective information for making technological decisions.
Downloads
Download data is not yet available.
References
Lupenko, S 2006, 'Features of discretization of
cyclic functions', Measuring and computer technology in
technological processes, no.1, pp. 64–70. [in Ukrainian].
Lytvynenko, Ia 2006, 'Methods of statistical
processing of heart signals based on their model in the form of
a cyclic random process with zone temporal structure',
Bulletin of the Ternopil State Technical University Ternopil,
vol. 11, no. 4, pp. 189–200. [in Ukrainian].
Lytvynenko, Ia 2011, 'Imitation modeling of
interconnected economic processes on the basis of the vector
of cyclic rhythmically related random processes', Electronics
and control systems, no. 2 (28), pp. 133–141. [in Ukrainian].
Lupenko, S 2007, 'The task of interpolation of the
rhythm function of a cyclic function with a known zone
structure', Electronics and Control Systems, no. 2 (12),
pp. 27–35. [in Ukrainian].
Lytvynenko, Ia 2016, 'The Method of the Quadratic
Interpolation of the Discrete Rhythm Function of the Cyclical
Signal With A Defined Segmented Structure', Scientific
Journal of the Ternopil National Technical University,
vol. 84, no. 4, pp. 131–138. [in Ukrainian].
Lytvynenko, Ia 2017, 'The Method of Interpolation
by a Cubic Spline of a Discrete Function of the Rhythm of a
Cyclic Signal with a Definite Segmental Structure',
Measuring and computing engineering in technological
processes, no. 3, pp. 105–112. [in Ukrainian].
Lupenko, S 2006, Theoretical bases of modeling and
processing of cyclic signals in information systems:
Monograph, Lviv , 343 pp. [in Ukrainian].
Lytvynenko, Ia 2016, 'The Problem of Segmentation
of the Cyclic Random Process with a Segmental Structure and
the Approaches to Its Solving', Journal of Hydrocarbon
Power Engineering, vol. 3, iss. 1, pp. 30–37.
Lytvynenko, Ia 2005, 'Statistical method for
determining the zone structure of an electro cardiogram in
automated diagnostic systems', Bulletin of the Ternopil State
Technical University Ternopil, vol. 10, no. 3, pp. 165–175.
[in Ukrainian].
Lytvynenko, Ia 2018, 'Method of segmentation of
determined cyclic signals for the problems related to their
processing and modeling', Scientific Journal of the Ternopil
National Technical University, vol. 88, nNo. 4, pp. 153–169.
[in Ukrainian].
Lytvynenko, Ia 2009, 'Simulation of synchronously
registered heart signals on the basis of a vector of cyclic
rhythmically related random processes in cardiometric
problems', Electronics and control systems., no. 4 (22),
pp. 141–148. [in Ukrainian].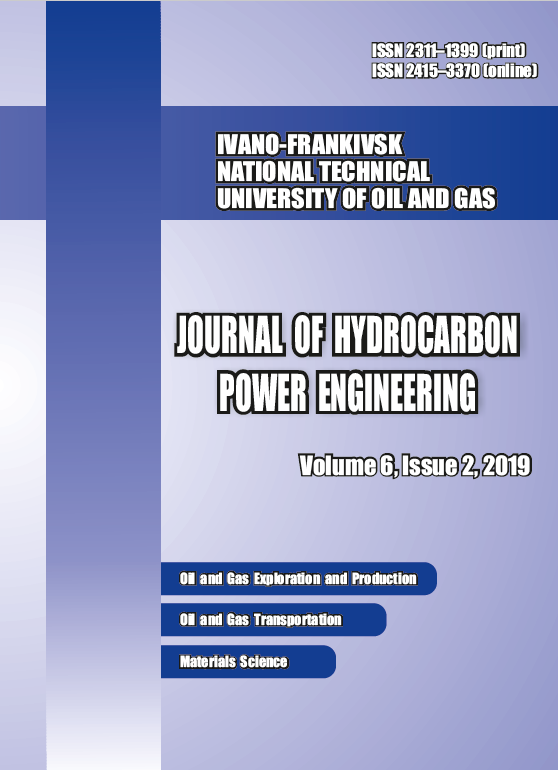 How to Cite
Tsyganchuk, V. V., Shlapak , L. S., Matviienkiv , O. M., & Sydor , P. Y. (2019). Remote monitoring of gas pipelines on the basis of magnetic elastic sensors of mechanical voltage. JOURNAL OF HYDROCARBON POWER ENGINEERING, 6(2), 48-55. https://doi.org/10.31471/2311-1399-2019-2(12)-48-55
Section
OIL AND GAS TRANSPORTATION