Hydrophobization method and "Ramksis-2" material for the flow rate in crease in the watered oil wells
Keywords:
hydrophobisation, oilfield, oil recovery, reservoir.
Abstract
In the article there is made an attempt to investigate the most effective methods of petrofeedback increasing and wells productivity in the conditions of Ukrainian oil and gas fields. Traditional methods petrofeedback increasing and new approaches of solving this problem, such as hydrophobization layer zones or the use of water-swellable polymers are also considered.
Particular attention is given to the processing of studies of cores of flooded wells to determine the coefficient of permeability recovery after injection of hydrophobic suspension "Ramsinks-2". The material significantly increases the injectivity of the well, reduces the injection pressure by improving permeability of the formation. It is shown that the use of hydrophobic materials "Ramsinks-2" and "Silpan-SV" in wells allows almost completely restore the filtration characteristics of the producing formation by increasing the oil component in the oil-water mixture.
Downloads
Download data is not yet available.
References
Nalivayko, AI, Rudyy, MI & Polevoy, YuA 2005, 'Methods of increasing oil recovery and productivity wells in the conditions of oil fields of Ukraine', Scientific Bulletin of the National Mining University, no 12, pp. 15–21. (in Ukrainian)
Levorsen, A 1970, Geology of oil and gas, Svet, Moscow. (in Russian)
Patent RF No 2188933, kl. E21B37/06, E21B43/22. The way to increase well productivity / Nalivayko A.I., Marin V.I., Akchurin V.A. and all; Saratov State University named after N.G. Chernyshevsky; stated 15.05.2001, published 10.09.2002, 14 p. (in Russian)
Nalivayko, AI 2015, 'Composition and process to increase oil recovery of productive formations and productivity of wells in the conditions of their watering', Scientific Bulletin of the Kremenchuk Mykhailo Ostrohradskiy National University, iss. 1(90), part 2, pp. 98–103. (in Ukrainian)
Masket, M 2005, 'The flow of homogeneous liquids in a porous medium', Institute of Computer Studies, Moscow, Izhevsk. (in Russian)
Useful model patent of Ukraine No 32045, Solutions for the selective treatment of oil reservoirs (Silpan–SV) / Pan'ko DA, Nalivayko AI, Rudyy MI & Lapko SV, 2008, 12 p. (in Ukrainian)
Yurkov, NI 2004, Physicochemical principles of oil production, Volgograd. (in Russian)
Nalivaiko, OI, Vynnykov, YuL, Nalivaiko, LG, Melnikov, OL & Reznichenko, AO 2016, 'Improving the quality of cementing the production casing by oil well cement slurry "Silpan-P" of group "Ramsinks-2M"', Collection of scientific articles «Energy. Energy saving and rational nature use», Kazimierz Pulaski University of Technology and Humanities in Rodon, iss. 1(6), pp. 26–36.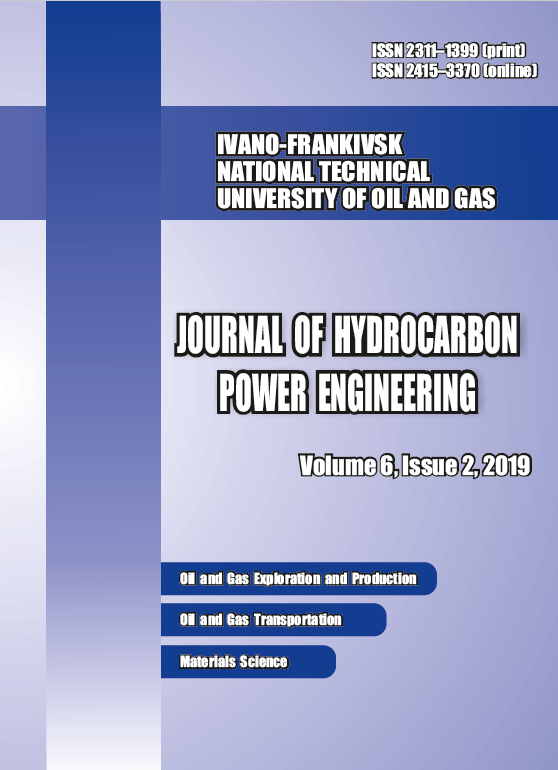 Downloads
How to Cite
Babaev, V. N. ., Kaptsov , I. I., & Nalyvaiko , O. I. . (2019). Hydrophobization method and "Ramksis-2" material for the flow rate in crease in the watered oil wells. JOURNAL OF HYDROCARBON POWER ENGINEERING, 6(2), 41–47. https://doi.org/10.31471/2311-1399-2019-2(12)-41-47
Section
OIL AND GAS EXPLORATION AND PRODUCTION