Research of the tribological properties of filled epoxypolymer composites for improving the performance characteristics of friction units of vehicles
Keywords:
aggressive environment, anti-friction material, coefficient of friction, epoxy-polyester composite, tribological properties, wear intensity.
Abstract
The tribological properties of filled epoxy polymer composites were studied in order to improve the operational
characteristics of friction nods of means of transport. The polymer matrix of the composite is formed on the basis of ED-20 epoxy
oligomer (q = 100 wt. parts) with the addition of orthophthalic dicyclopentadiene unsaturated pre-accelerated polyester resin
ENYDYNE H 68372 TAE (q = 10 wt. parts per 100 wt. parts of epoxy resin), at the same time, cold hardening hardener
polyethylene polyamine (PEPA) (q = 10 wt. parts), initiator for polyester resins Butanox-M50 (q = 1.5 wt. parts) was used. The
modifier methylene diphenyl diisocyanate (q = 0.25 wt. parts) and fillers: hexagonal h-NB 8–10 μm (q = 60 wt. parts) and mica
20–40 μm were added to the composition of the epoxy-polyester composite (q = 20 wt. parts). The tribological properties of the composites were studied using a 2070 СМТ-1 friction machine after exposure for 150 days in aggressive river water (Dnipro River) and alkaline environments (50 % NaOH solution).
Downloads
Download data is not yet available.
References
Chen, X 2019, 'Marine Transport Efficiency
Evaluation of Cross-border E-commerce Logistics Based on
Analytic Hierarchy Process', Journal of Coastal Research,
(sp1), 682. https://doi.org/10.2112/SI94-135.1
Sui, C, Stapersma, D, Visser, K, de Vos, P & Ding,
Y 2019, 'Energy effectiveness of ocean-going cargo ship
under various operating conditions', Ocean Engineering, 190,
https://doi.org/10.1016/j.oceaneng.2019.106473
Kerber, ML, Vinogradov, VM & Golovkin, GS
, Polymer composite matherials: structure, properties,
technology, COP «Professiya». [in Russian]
Buketov, A, Brailo, M, Yakushchenko, S &
Sapronova, A 2018, 'Development of Epoxy-Polyester
Composite with Improved Thermophysical Properties for
Restoration of Details of Sea and River Transport', Materials
Science and Engineering, pp. 1–6.
https://doi.org/10.1155/2018/6378782.
Park, JH & Rutledge, GC 2017, '50th anniversary
perspective: Advanced polymer fibers: High performance and
ultrafine', Macromolecules, vol. 50, pp. 5627–5642.
Kashytskyi, V, Sadova, O, Liushuk, O, Davydiuk, O
& Myskovets, S 2017, 'Examining a mechanism of generating
the fragments of protective film in the trybological system
"epoxycomposite–steel", Eastern-European J. Enterp.
Technol, vol. 2, pp. 10–16. https://doi.org/10.15587/1729-
2017.97418
Jamshidi, R, Heidarpour, A, Aghamohammadi, H &
Eslami-Farsani, R 2019, 'Improvement in the mechanical and
tribological behavior of epoxy matrix with the inclusion of
synthesized Ti 3 AlC 10 MAX particles', J. Compos. Mater.
vol. 53, pp. 3819–3827. https://doi.org/10.1177/
Ren, Z et al. 2019, 'Tribological properties of
molybdenum disulfide and helical carbon nanotube modified
epoxy resin', Materials, vol. 12, no. 6, pp. 903.
Ma, X et al. 2021, 'Highly thermally conductive
epoxy composites with anti-friction performance achieved by
carbon nanofibers assisted graphene nanoplatelets assembly',
European Polymer Journal, vol. 151, pp. 110443.
Şahin, Y & De Baets, P 2017, 'Friction and Wear
Behavior of Carbon Fabric-Reinforced Epoxy Composites',
JOM, vol. 69, pp. 2443–2447. https://doi.org/10.1007/s11837-
-2273-2
Buketov, AV, Brailo, MV, Sapronov, OO, Kruglyj,
DG, Appazov, ES, Dulebova, L & Klevtsov, KM 2020,
'Nanofilled Antifriction Polymeric Composite Materials for
Parts of Friction Units of Sea and River Transport', Journal of
nano- and electronic physics, vol. 12, no. 5, pp. 05025-1–
-6. DOI: https://doi.org/10.21272/jnep.12(5).05025.
Yakushchenko, SV, Brailo, MV, Buketov, AV,
Sapronov, OO, Popovych, V & Dulebova, L 2022,
'Investigation of the properties and structure of epoxypolyester
composites with two-component bidispersed filler',
Composites: Mechanics, Computations, Applications, An
International Journal, 13(1):81–9.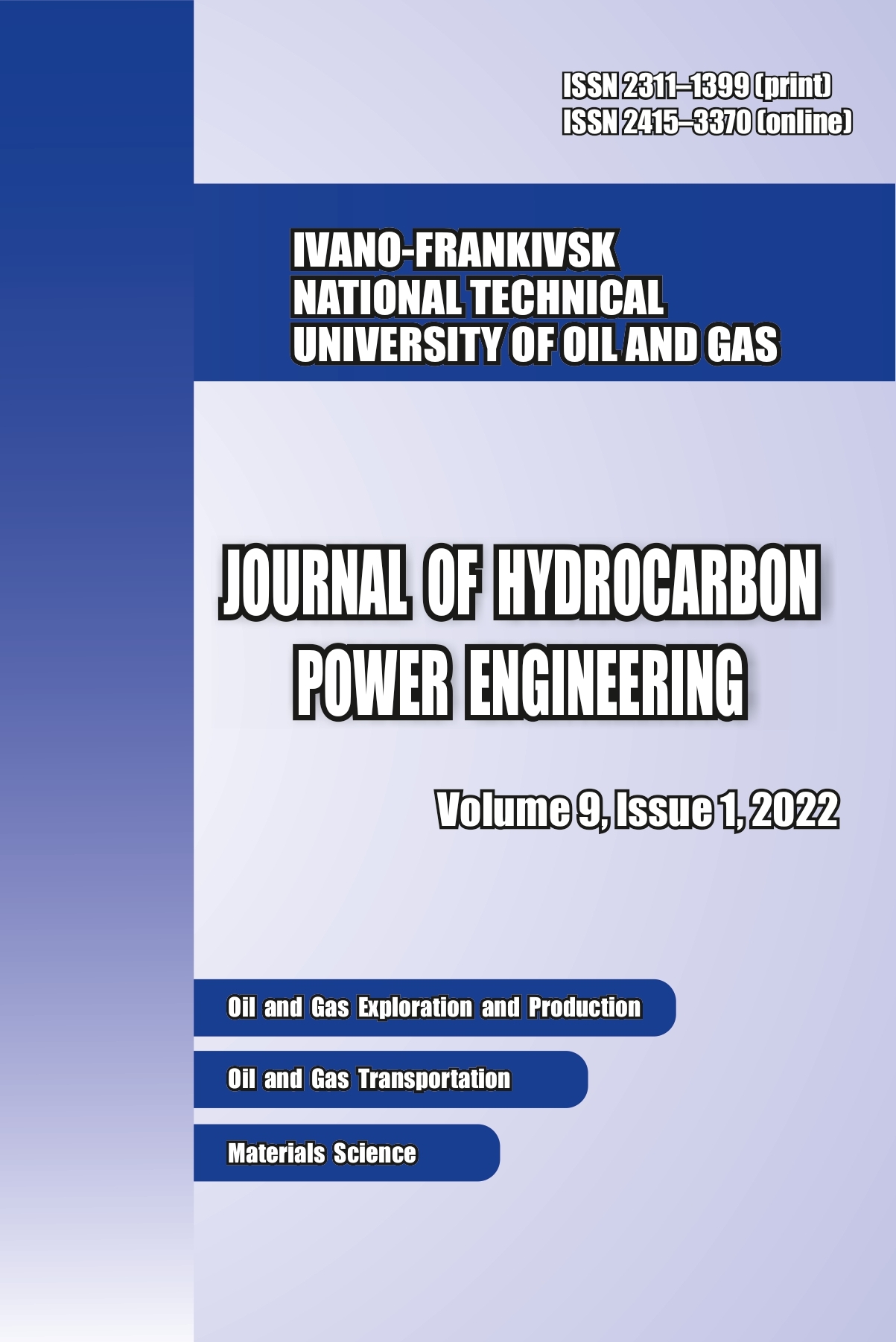 Downloads
How to Cite
К. Yu. Yurenin S. V. Y. M. V. B. . (2023). Research of the tribological properties of filled epoxypolymer composites for improving the performance characteristics of friction units of vehicles. JOURNAL OF HYDROCARBON POWER ENGINEERING, 9(1), 14–18. https://doi.org/10.31471/2311-1399-2022-1(17)-14-18
Section
MATERIALS SCIENCE